LEONHARD EULER PROGRAMME 2024-2025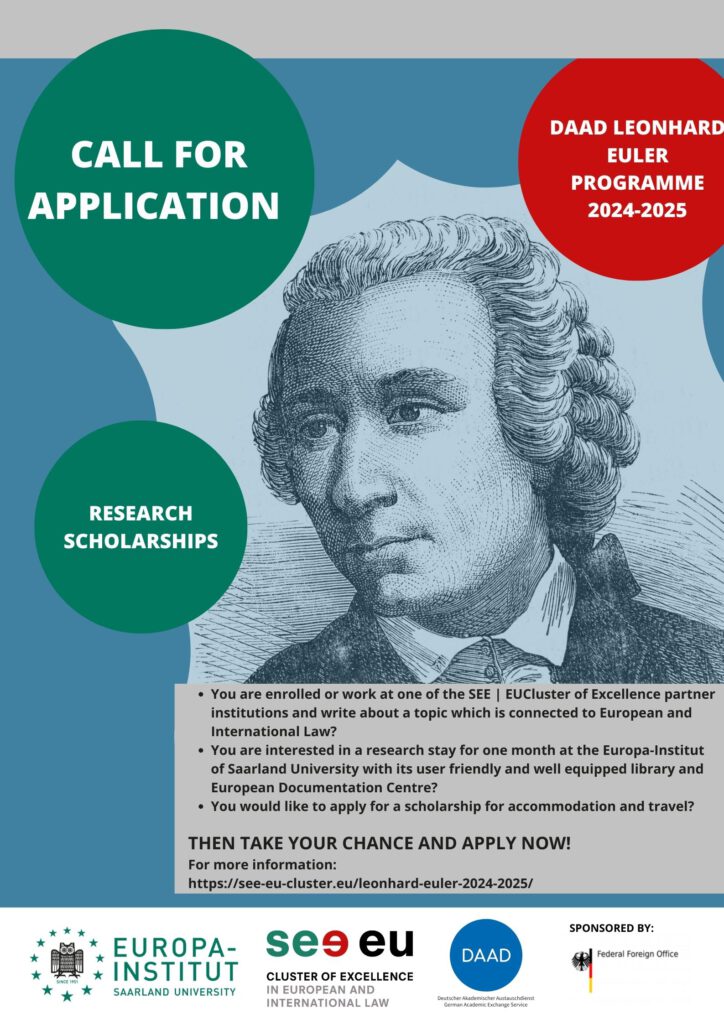 LEONHARD EULER PROGRAMME 2024-2025
Doing a Ph.D. at one of the partner institutions to the SEE | EU Cluster of Excellence?
Keen on researching European and International Law away from your home university?
Interested in a scholarship for a research stay in an inspiring and new environment of one of the partner institutions?
The Leonhard-Euler-Program of the German Academic Exchange Service with funds of the German Foreign Office goes into its next round in 2024-2025. For this purpose, the Europa-Institut of Saarland University wants to apply for several scholarship so that we are able to award a 1-month scholarship. 
The Leonhard-Euler-Program promotes the implementation of joint binational research projects in order to contribute to the retention of young university teachers (e.g. during the doctoral phase) at their respective home universities. The supervision of young researchers from Eastern and Southeastern Europe as well as countries of the South Caucasus and Central Asia is carried out jointly by foreign and German university teachers, taking advantage of existing good professional relations in one (or more neighboring) discipline(s) between the German university and the foreign university. 
Ph.D. candidates from the SEE | EU Cluster of Excellence or SEELS partner institutions are encouraged and welcome to apply for the Leonhard-Euler-Programme 2024-2025 and if selected, conduct a research stay at the Europa-Institut.
In order to apply for the scholarship the candidates should send the application documents to projects@europainstitut.de, 
latest by 10th of December 2023 at 23:59 CET.
Call documents:
Call for Participants_Leonhard-Euler-Programme 2024-2025

LEP2024-2025_CV
Inspiring surroundings, useful literature, excellent networking opportunities, well-organised campus, friendly and dedicated staff are only some of the feedbacks of the SEE | EU Cluster of Excellence Scholarship and Leonhard Euler Programme alumni.
We wish every applicant the best of luck and are looking forward to your applications!